Last week, I posted an article asking for your input about some experiences I've had recently where my "Momma" voice emerges when working with a client. You can read the post here.
I received several responses, both as comments on this blog and on Facebook.
And your comments have helped clarify things for me:
1. Be Careful What You Write
In re-reading the post, I realized that I had made it sound like I mother and "discipline" my clients. That's not true. In fact, I never raise my voice with them. (With trauma-influenced children, when they get escala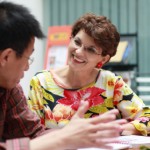 ted, your first job is to calm them down. Keeping your voice low and calm helps tremendously).
I feel I need to clarify what happened. There were two times over the past several months where I noticed I was counting, giving 5 seconds to give a 4-year-old client time to make the right choice. This is a technique I frequently use with my 2-year-old. I noticed I was using this technique, then stopped and took a different tack. The counting to me is a "momma" technique and not a "therapist" technique.
But it was the first time those two parts of me had melded. I was having difficultly figuring out why (which I did in #2 below), so wrote the post asking for your help.
My apologies for not making that clearer. And lesson learned – be careful what you write!
2. Growth as a Person = Growth as a Therapist
Your comments helped me realize that I was changing and growing as a mother, adapting to the changes and growth of my children. And these changes will filter over to my professional work.
Especially when the 4-, 5-, and 6-year-olds I work with exhibit some of the same behaviors as my 2-year-old.
My job as a therapist is to be conscious of when that happens, be aware of myself, my actions, and my intentions. I need to self-reflect and make sure that what I am doing is in the best interests of my clients and is therapeutically-appropriate.
3. Supervision is Important
Roia, a fellow music therapy blogger at The Mindful Music Therapist, recently published two wonderful posts on Professional Clinical Supervision (you can read Part I here and Part II here).
To add to her thoughts, I feel supervision can take on many forms. As a private practitioner, I do not have a direct supervisor, so I have had to seek out my own supervision. Sometimes it's from other therapists or co-workers, sometimes from music therapy friends, and sometimes from a counselor I occasionally work with. If I have needed to work something out, there has always been someone available.
And I am grateful to have found another avenue, an unexpected one. You.
So the take-home lesson here is: supervision is important and it may pop up where you least expect it.
Thank you for your help.