This is an unofficial statistic, but I would say 85% of music therapists are women.
And of those, many are moms.
I am one of those moms. I have two beautiful children, a 2.5 year old and a 9 month old. And for me, being a mom makes me a better music therapist and being a music therapist makes me a better mom.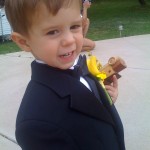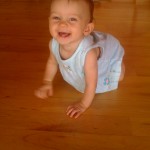 But I've noticed something interesting. I primarily work with children and I have recently caught myself using my  "momma" voice with them.
You know that voice I am talking about? It's the directive, you-do-this-or-else voice that develops right as your first child turns two. It's the one that gives the big count-down: "1! 2! 3! 4! 5! Okay…it's time-out time!" And it's the one that barks, especially the first and middle name of your child (I still freeze if I hear "Kimberly Mary!").
And I have caught myself slipping into my "momma" mode when trying to get one of my clients to make a good choice or to follow my directions.
I don't mean to slip into that voice. It's a bit of a natural reaction right now (and given that I have a 2 year old, I use my "momma" voice…oh, all the time.)
I am not really sure the best way to handle this when it happens. I don't think it's best for me, as a therapist, to have that type of dynamic with my clients. But is there a fix? At this point, all I am doing is being aware of it when it does happen, then consciously stopping myself and taking a new tack. Is anything more needed?
I don't have the answers here, so I guess what I am hoping for is some of YOUR insight. Do you have any thoughts or suggestions? Have you been through this before? If so, please leave a comment and let us know your thoughts.