Newsletter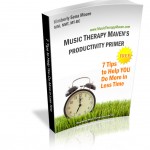 If you like this blog, get the newest Music Therapy Maven content sent to you automatically by signing up for the Maven Newsletter!
Subscribing to the newsletter is free. And it's also risk-free–you can "un-subscribe" at any time with the click of a button.
PLUS, in gratitude for your support, new Maven newsletter subscribers also receive a FREE copy of the Music Therapy Maven's Productivity Primer, your 7 tip guide that will help you do more in less time.
If this sounds like a fit for you, simply enter your name and email into the fields below and click "Submit":

Note: Your privacy is important to me. I will never sell or distribute your contact information to any 3rd party. I will contact you with occasional opportunities related to stuff we talk about here. If it gets too much, every newsletter will have instructions on how to opt out.
Testimony about the
Productivity Primer
Not convinced yet? Here's what one reader had to say about my Productivity Primer:
I just read this, and it is amazing! I'm starting with the to do lists. Currently I have seven different lists…some of them overlap, some of them list things that really belong somewhere else…and things get lost. I just printed out all seven lists (from Google Cal) and I'm going to spend some time…right now, organizing them into daily, weekly and long term lists.
I have struggled for years with having more desire to organize and accomplish things than skills to make it happen. Your primer has inspired me in ways I couldn't have imagined. My beloveds have implored me to be more structured, more organized, and I think reading this primer has been the first step in a new, success oriented journey for me.
I'd love to gush more about how inspired I feel, but my writing emails chunk has expired and I need to organize my organization 🙂
Thanks!
Stephen