About
Welcome! My name is Kimberly Sena Moore and I am a board certified music therapist. There are many ways I manifest this identity—I am an Assistant Professor of Professional Practice in the Frost School of Music at the University of Miami, run this blog and the Your Musical Self blog (through Psychology Today), am a former co-host of the Music Therapy Round Table podcast, and serve as the Regulatory Affairs Associate for the Certification Board for Music Therapists.
I'm also passionate about sharing music therapy with the world, which is one of the reasons I started the Music Therapy Maven blog. I invite you to explore this site for information on music therapy, music and the brain, private practice work, research and academia, and life as a career-loving mommy.
Bio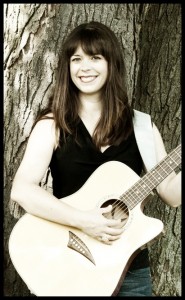 I received my Bachelor of Music in Music Therapy from the University of Iowa, then moved to San Diego, California for six months for my clinical training internship at Musicworx of California. Next came Fort Collins, Colorado, where I earned my Masters of Music in Music Therapy at Colorado State University. I fell in love with the Rockies and decided, if I could make it work, I would stay.
Well–1 husband, 2 kids, and 1 career later I was making it work. I had started Neurosong Music Therapy Services, a contractual agency providing music therapy services to hospitals, rehabilitation centers, and mental health treatment centers in northern Colorado.
Then life took a different direction and in the summer 2010 we found ourselves in Warrensburg, Missouri. So I re-grouped, started a new job with CBMT, enrolled in the Interdisciplinary Ph.D. program at the University of Missouri-Kansas City, and continued my blogging and podcasting.
Four years later, my family and I moved to Miami, Florida, where we currently reside and where I have the distinct pleasure of training future music therapists as a teacher in the Frost School of Music at the University of Miami. In addition to education and clinical training, I also am developing a research line exploring the impact of music-based interventions on emotion regulation development.
Music Therapy
My clinical background includes work with children with a history of complex trauma as well as children, adults, and older adults who have health/medical or neurorehabilitation needs. My current clinical and research interests center on music therapy and emotion regulation development in neurodevelopmentally at-risk children.
I have presented extensively at regional, national, and international conferences. My research has been published in the Journal of Music Therapy, Music Therapy Perspective, Imagine, and Frontiers in Human Neuroscience, and my work has been featured in several media outlets, including Psychology Today, Redbook, and CURE  (find those details here).
I have served on the Board of the Colorado Association for Music Therapy, on the Exam Committee for the Certification Board for Music Therapists, and on the Colorado State Task Force promoting state recognition of the MT-BC credential. This latter role led my my current position as Regulatory Affairs Associate for CBMT, where I am involved in state-level advocacy, legislative, and policy issues that impact music therapy practice.
Why I started the Music Therapy Maven?
The primary reason I started the Music Therapy Maven was to provide you with resources and information related to music therapy, music neuroscience, and small business development. The focus of this blog is to provide information and resources that will help make you the best music therapist possible.
Since you are the main reason this blog exists, I will always encourage comments and even emails asking me questions about music therapy. Seriously, I do. Never feel like you can't leave a comment on this blog. It's the conversations we have and the relationships we've developed through these conversations that make this blog worthwhile.
Disclosures and Relationships
Let it be known that views shared here are the author's alone and not that of the University of Miami, the Certification Board for Music Therapists, or any of their affiliates.
Although the primary purpose of this blog is to provide you with information, you will notice a "Suggested Resources" page. All the products and providers I recommend on this page are ones I know and trust. Additionally, you will see other types of advertisements from time to time. It's good business practice to have multiple income streams and I wanted to see if it worked for blogging, too!
In the spirit of full disclosure, here are the ways this blog makes money:
Suggested Resources

— Some of the resources I suggest allow me to have an affiliate link to their site. This means that, if you purchase one of these resources, I will make an affiliate commission.

Suggested Books or Products

— Almost every book, CD, or electronic product I suggest on the Music Therapy Maven will have an affiliate link to my Amazon Affiliate account. If you buy the product after clicking on my link, I will make a 4 to 5% commission.

Sponsors and Supporters

—Every once in awhile you may see a sponsored ad on the sidebar. Should you find an ad on this site, it means I endorse the product and believe it adds value for you.
Know that if I put a product, book, or resource on the Music Therapy Maven, I have checked it out, like the product, and trust who is providing it.
Don't Forget to Subscribe
I post new articles on the Music Therapy Maven at least once a week. I share new posts on Twitter and Facebook, but you may prefer to use one of our subscription services to get the latest articles. You can get updates via our RSS Feed or Email. Simply click on the link on the upper left to subscribe (Don't know what all this means? I wrote an article to help you out).
In addition to our regular blog posts, the Music Therapy Maven newsletters sends you additional articles, reviews, and content not on the regular blog. I even encourage you to forward the newsletter to anyone you think might benefit from reading it. Sign up below for FREE instant access:

Have a Question?

If there is ever a topic you would like to see me address or if you have a specific question, please don't hesitate to contact me. I always enjoy hearing from you and building a relationship through our conversations.
Thank you for reading the Music Therapy Maven!
Photos courtesy of the talented Steve Rambach. Thank you, Steve!