One of the hardest skills to learn as a therapist is to shut up. Silence is hard. Silence makes us uncomfortable.
The other week, I was with a client, "Tony." Tony is 10 years old and is a very angry child. He has a right to be angry–he grew up in a chaotic, abusive environment, was removed from his mom, and has a really hard time connecting with others.
However, Tony responds remarkably well to music and he is turning into a prolific songwriter (we've already cranked out 6 songs in 2 months). During our session the other week, I was probing, trying to get Tony to process some of the words he had written. At first, Tony was just quiet, not answering. I probed more. No answer. I tried another question. He buried his head in his hands. I waited a minute, then asked another que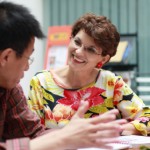 stion. Finally, Tony shouted:
"Why do you keep asking questions?!?"
I had forgotten to allow for silence and Tony got angry.
Silence is important because it allows our clients time to process. Many of the clients we work with need a little extra time to process information, whether it be about their feelings, events that occurred, or the question you just asked. They need that time to filter and understand their own thoughts before sharing them with you.
This is true for both individual and group therapy sessions. Allow time for processing. In a group setting, you also need to allow time for the first person to be brave enough to be the first to speak (depending on the group, of course). If you give that time, someone in the group will be break the silence. Just don't let it be you.
It's also important to remember that the silence will always seem longer to you, the therapist, than it does to the client. It's natural for us to want to fill in space, to jump in and share our thoughts while the client is still processing. Don't. Allow the silence to be. It's hard, but with practice it will get easier.
If you like this article, you will love the Music Therapy Maven newsletter. Enter your email below to start receiving your subscription today!