A couple weeks ago, I wrote about a project I'm working on–an ebook on productivity and how you can do more in less time. One part of the project I was worried about was the cover. I am not a graphic designer, nor do I have lots of money to spend on a professional.
That's when I heard about really cool design service called 99designs.com. You register for an account (it's free) and submit a design project, plus the amount you're willing to spend on the project (minimum is about $150). Then it runs like a contest–designers submit their design based on your project description. You pick the winning design and that person gets the money. Plus, if you like a design, but want to make some changes, you can offer feedback while the contest is running.
So I thought I'd try it out on my ebook project. The contest ran for a week and I had over 50 designs to choose from! Here's the winner: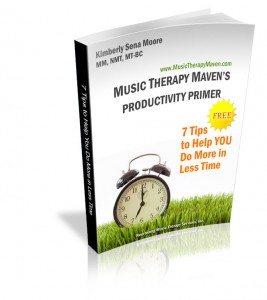 You can submit all kinds of design projects–logos, book covers, websites, brochures, icons, stationary, t-shirts, and more–and the cost is minimal. My company website cost thousands of dollars to design. Although I love it, using 99designs.com would have saved me at least $1000. If you need a designer, I would highly recommend you try it out.
As for my ebook (titled "Music Therapy Maven's Productivity Primer: 7 Tips to Help You Do More in Less Time"), those sign up for the Music Therapy Maven newsletter will be the first to receive a copy. And did I mention it's free? If you're interested, simply fill out your email below: