We are now in week 4 of our Private Practice 101 series. We've previously covered evaluating why you want to start a practice, determining who needs to be on your business team, and reviewing what types of businesses you can start.
And if you go back and re-read those posts, make sure you check out the comments, too. Readers have been asking really good questions and providing additional information. There's good stuff there!
Now on to today's topic (something we all like)…money!
Business is basic: you offer a product or service of value and people pay you for it. Even with all these "steps" we are going through in this series, at it's very core, that's all business is.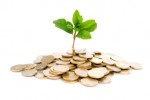 Today we'll talk about the "people pay you for it" part. This won't cover setting up contracts (we'll get to that next week), but will show where the money comes from. Where do you get the funds? Like the previous 3 posts, this is just a basic overview of your options.
In my experience, there are three sources for funding: private pay, grants, and insurance.
Private Pay
Private pay is the easiest to understand. It simply means that your client pays for your services out of their budget. This could be from the rehab department budget of a hospital, the activities department budget from an assisted living facility, or the personal budget of a household. That client has chosen to allocate funds they  have towards paying for your services.
There's not a whole lot for you to do, other than provide your client with an invoice so they can pay you.
Grants
With this option, you propose a project and apply for money through an outside organization to fund that project. That's it.
I have successfully used this model to start one program, continue another, and am working on a third right now (which I'm submitting this afternoon, actually). I've also unsuccessfully tried for a clinical research grant and some professional development grants. So I've been on both sides (and you will be, too, if you go this route!)
The following points are based on my experiences and my conversations with others. As always, if you have anything to add–please share it in the comment section below!
What kinds of projects are funded?
You can apply for grant money for almost any kind of project you envision. Examples include:
Funding a pilot project to start a new program
Funding to continue a program, or supplement existing funding for a program
Money to purchase instruments and supplies
Funds to attend a conference or other professional development opportunity
Money for a specific project (like recording a CD–which fellow music therapist Rachel Rambach did through Kickstarter. She's in St. Louis, recording this week!)
Funding for a research project
Grant funding can range for a couple hundred dollars to attend a conference to millions for a multi-year research grant.
Where do I find applications?
Whatever your project idea, you'll need to find an "outside organization" with an interest in the outcomes of your project. This outside organization can be local/regional, state, or national.
I have "found" all my grant opportunities through listening, staying connected to people in my community who've referred me to grant opportunities, and asking–both people in my community and electronically through Google. Also, look to your professional organizations–many of them offer grant opportunities as well.
To my knowledge, there's no "central resource"or search engine for finding grant opportunities (though if you know of one…please!…leave a comment below.)
Anything else?
Some other points:
Make sure your project idea fits the needs of the funding body. You won't get far applying for money to purchase instruments from an agency that wants to improve the lives of trauma-influenced children.
If you are collaborating with an organization to write a grant, see if that organization has a grant writer. There are people who do this professionally. A grant writer can, at least, offer you tips, suggestions and feedback and, at most, write the grant for you!
I talked a little last week about non-profits. One advantage of starting a non-profit is that there are more grant opportunities available. Food for thought.
The funding body will likely want something in return: they'll want some proof that there money was put to good use. This could be in the form of data tracking, or submitting an article for their newsletter, or writing semi-annual and annual reports. They will stipulate in the application what they need.
Insurance
This is a big, big topic. Huge. I get asked about insurance all the time.
This post will not everything you need to know about insurance. If you're looking for more information (and you're a music therapist), Judy Simpson from the American Music Therapy Association has put together some fabulous materials. Another resource that has helped me is the Medical Codings and Records Manual: Neurologic Music Therapy, which you can purchase if you're NMT-trained (Click on the "Order" link. And, yes, my name's on it. Although I don't get anything from recommending it to you. It's a project I helped put together as a graduate student).
Anyway, insurance.
I decided a while ago that, since I am a small private practice, I would not handle insurance claims. I'm not a doctor's office or a hospital with a staff devoted to billing. There are hundreds, if not thousands, of different insurance companies out there. Then there's…me. The math (in terms of manpower) does not make sense.
That said, if a client (agency or private) wants to handle getting insurance reimbursement, I will do what I can to help make that possible. Phone calls, paperwork, etc.
I have made calls on behalf of clients to their insurance companies to see if they will cover my services. In many ways, it makes it easier for me to make those calls, because every insurance company I've talked to has never heard of music therapy (of course). So I can answer their questions.
Some clients have insurance companies that do cover music therapy; and some don't. If they do, I provide the client with an invoice they can use to submit to insurance for reimbursement.
And that's how I decided to handle insurance. I will help my clients however I can if they want to submit for insurance reimbursement, but I am not the one getting reimbursed.
And that ends our little overview of different ways you can get paid for your services. If you have any other ideas, suggestions, or questions not covered in the post, please leave a comment below. Let's continue the great dialogue we've had so far!
P.S. I've been sending out reminders on Facebook, but also want to remind you HERE that you still have time to send in your application for the Music Therapy Maven Sponsorship Experiment. It's for free and for fun. So, for details, click here.