We're nearing the end of our Private Practice 101 series! By now you've started to lay down the foundation of your business, from it's structure to paperwork to getting paid.
But it doesn't matter how strong your business structure and services are…if no one knows about them.
Today we start talking about marketing. I'm going to cover this topic over two weeks. This week, we'll talk about what needs to happen during the marketing process. Next week, we'll cover some of the tools that may help.
Marketing is Like Finding a Spouse
A business has one main purpose: to create and keep customers. No matter how big or small you are, you will only survive if you have customers and are able to keep them around for awhile.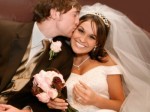 With that in mind, it's important for us to take care of our customers, both current and potential ones (called prospects). It can help to view yourself as entering a business marriage with your clients. And like any marriage, you need to spend time wooing them and building the relationship.
That's where marketing comes in.
Marketing, technically, is the process where you create value for your customers and build strong customer relationships. And like courting a potential spouse, there are some basic things to  keep in mind that will make your marketing strategy successful:
Go where they are. If you want to find a spouse who really likes reading, doesn't it make sense to spend more time around libraries and bookstores than the sports bar down the street? Same with prospects. If you really want to serve children with autism, then connect with your local autism society meeting, talk to parent support networks in the area, and set up meetings with the special ed teachers in your school district. Don't make them come to you; you need to go to them.
Be Helpful. When you help someone, especially if you do so with "no strings attached," that makes the person feel good. You make a person feel good and there's a better chance that they'll remember you. Not only that, but they'll also begin to trust you (and trust, as you know, is the foundation of any marriage). You do this often enough, then all of a sudden you're the "expert" in your area who people trust and who gets all the referrals.
Listen. I once heard someone say that having a successful business isn't dependent on your ability to organize and manage the business, but your ability to be creative and respond to needs. And isn't that what we do as therapists? We "listen" to our client's needs (e.g. goals) and respond appropriately in our treatment plans. Same with any business relationship. Listen to your clients, offer them what they need, and your business will thrive.
Expand your Network. Every wonder why professional sports players get paid so much money? It's because they literally entertain millions. As a general rule, the more people you serve, the more money you'll make. Part of your marketing strategy will be to actively seek out organizations, support groups, agencies, and other groups. Better yet, don't just reach out to them, but try to find a way to help them. This is a surefire way to build trust in your business and help it grow.
Always Be Nice. Whenever you talk to someone about what you do, you are marketing your business. It doesn't matter whether you are trying to get that person to become a customer or not–to that person you represent your business. You never know when, down the road, that person will either turn into a customer or will send business your way. So be nice and helpful to people you meet. Always.
Be Patient. You are planting seeds with every person you talk to, every presentation you give, and every contact you make. And sometimes it takes those seeds a while to begin blooming. I have had client contact me to begins sessions 6 months after seeing me at a presentation. Be patient, be persistent, be helpful.
NEXT WEEK: Next week we'll cover some of the tools (print and digital) you can use in your marketing strategy.
P.S. Earlier this week, I wrote another blog article for Psychology Today. Titled "Music Therapy and Dyslexia: There's Still Hope!" it is my response to an article that appeared in Science Daily called "Music Therapy Fails Dyslexics." I've gotten some interesting feedback about this article. If you have something to contribute, please comment on the post!