I'm going to try something new. When people ask me "What is music therapy?", I'll say:
We use music to make your life better.
I've been reading a book called Made to Stick: Why Some Ideas Survive and Others Die
(by Chip and Dan Heath). "Sticky ideas" are ones that last and that people remember. Fables and proverbs are great examples: Strike while the iron is hot. Pretty is as pretty does. The tortoise and the hare. The boy who cried wolf. These are all sticky ideas that have lasted years and across many cultures.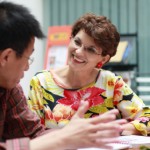 There are certain attributes and qualities sticky ideas have. The Heath brothers analyzed hundreds of them and described how we can make an idea stick in people's minds.
I'm not finished, yet, but have been thinking about one of their main points–that we need to find the core message in what we communicate. The main, fundamental, core message.
I've heard this before–when you describe something, keep it simple, keep it concrete. That's hard for me to do when I'm trying to describe music therapy. How do you address the nuances and complexities of what happens in a session? Much less how it's different when working with a child with autism versus and patient in rehab. And to top it all off–I'm passionate about what I do! I love sharing it with others and really want them to understand it.
Hence my dilemma. I thought about it this weekend, though–about all the different populations we work with, the non-music goals we address, the various setting where we work–and really tried to get at the heart of what we do. The core message.
And I came up with this: We use music to make your life better.
Think about it. No matter the non-musical goal, our ultimate purpose is to make that person's quality of life better. We help a stroke patient re-learn how to walk and talk again so they can lead as productive a life a possible. We help a child with autism learn how to talk so they can express their needs and tell a parent "I love you." We help a hospitalized patient decrease their pain and anxiety so they fell better and can heal more quickly.
When we really get to the core of what we are doing, I believe we are trying to make life better…through music.
If you are interested in reading Made to Stick: Why Some Ideas Survive and Others Die
, click on the title. Or, if you're like me and prefer to listen to audiobooks, I recommend (and LOVE) .