I'm sitting here typing this post, looking at my pretty pink nails. Nails that are rarely pretty pink.
I don't bother getting manicures. Between my kids, my household chores, and my instrument playing, I'm lucky if nail polish lasts a day.
Until now.
11 days ago, I got shellaced. Or, more accurately, my nails did. Shellac is a "hybrid gel nail polish" that has the thinness of traditional nail polish with the durability and toughness of more hard-core "nail enhancements."
I'm in love with it because I can have the best of both worlds–my hands can do everything they need to do AND I can have pretty nails.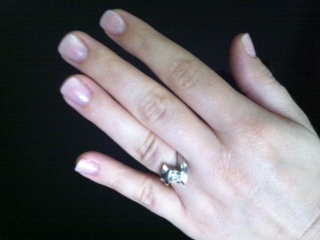 I've done the dishes, played catch with my kids, played piano, played flute, cooked, put kids in carseats, gone shopping, given baths, worked out, and typed on my computer. I have made zero changes to my routine since my manicure 11 days ago. And my nails are as shiny, pretty, and pink as the day one.
I've tried acrylic nails and loved how they made my nails look…but hated how they made my nails feel. Shellac is night-and-day different.
It may seem silly to rave about nail polish on this blog. But seriously…with the vast majority of music therapists being women–women who use their hands and need them to be functional–it seems appropriate to share a beauty trend that can work for us, doesn't it?
Shellac takes about 45 minutes to apply and dry and costs about $5ish more than a traditional manicure. You can use this site to find a shellac salon near you.