I love this time of year. The caroling, the lights, the gifts, the tree. It all makes me smile.
It probably won't surprise you that my absolute favorite part about this time of year is the music. I LOVE listening to and singing Christmas songs this time of year.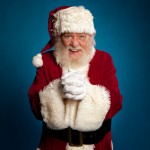 For the majority of the year, if you ask me to name my favorite pieces of music, I'd be hard-pressed to name just a few. But it's different with Christmas music. I have my favorites. Some I enjoy listening to and others I enjoy singing.
My Top 10 Holiday Songs include:
The Christmas Song (Chestnuts Roasting on an Open Fire). I don't really know why, but this is my absolute favorite Christmas song. Hands down. I sing it every year.
Have Yourself a Merry Little Christmas. This is my #2 favorite Christmas song. You can't beat Judy Garland's version in "Meet Me In St. Louis"–it's a classic. I've always preferred the original words, too, that go "…until then we'll have to muddle through somehow" (rather than "…hang a shining star upon the highest bough"). Did you know the words were different?
Silent Night. I love it's simplicity. I love it's beauty. I love harmonizing to the melody–takes me back to my high school alto days!
The Hippopotamus Song. I heard this song for the first time last year. I don't know how well-known it is, but I was hooked! It's an oldie, but I love campy, make-you-smile kinds of songs like this one. My favorite line? "Mom says the hippo would be me up, but then/Teacher says a hippo is a vegetarian"
Santa Baby. It's on my "bucket list" to sing this in front of an audience one day, Eartha Kitt-style.
The Chanukah Song. Ahhhh, Adam Sandler. This song makes me laugh every single time.
Baby, It's Cold Outside. Like with Santa Baby, it's on my "bucket list" to sing this duet one day. Love it.
12 Days. Have you heard of Straight No Chaser? They are an awesome all-male a cappella group, originally from the Indiana. They are a tight group and a hoot to watch. There's another song they have you may have heard on the radio, called "The Christmas Can-Can." Hysterical! They actually came out with a CD just this year: Christmas Cheers. Click that link if you're interested in checking it out!
The First Noel. This is another classic, traditional Christmas song that I just love.
Jingle Bells. Yes, I love "Jingle Bells" in all it's child-like simplisticity (my 3 year-old loves it this year!). Did you know it has three verses? Pretty much everyone knows the first verse, some even know there are two (it starts with "A day or two ago…"). The third verse goes: Now the ground is white/So go it while your young/Take the girls tonight/And sing this sleighing song/ Just get a bob-tailed nag/ Two-forty for his speed/Then hitch him to an open sleigh/And, crack!, you'll take the lead.
So, what's on your "Top 10" list? Leave a comment below!
P.S. If you like this blog, then you'll love the newsletter. Simply fill out your name and email below, then click "Subscribe Now" to get started!