I hurt my finger on vacation. A marble bathroom sink top fell and tore off the top of my left hand ring finger (though not completely off…the ER doctor was happy my fingertip was "still attached").
It took four stitches to hold my finger together. They just got removed this week. I can do most everything right now…
…except play the guitar.
If you are a music therapist, or music therapy student, I think I just heard you groan. Yes, I cannot play my guitar right now. Which sucks, because I use my guitar EVERY DAY at work.
I don't yet know when I will be able to play my guitar. But that's okay, because I will be using my autoharp, inst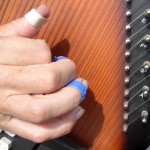 ead.
Remember the autoharp? Remember sitting with your elementary school music teacher, the autoharp sitting on the floor in front of you? You would press on the white chord button with your left hand, then cross your right hand over your left and strum with a pick. Voila! Instant music.
The autoharp is actually a very useful instrument for a music therapist, for several reasons:
It is very portable.
It is easy to play. Just press a button and strum.
The chords can sound richer than guitar chords because you have so many strings at your disposal.
The range is extensive. You can easily play full chords using all the strings, high chords using the upper strings, or low chords using the lower strings.
You can easily play a variety of dynamic changes based on how you strum.
Now, to be fair, there are a couple of downsides to the autoharp:
It can be a pain to tune. (On the flip side, once you are used to tuning, it only takes about 5-10 minutes. And you only need to tune it as needed, which means you can go months without a tune-up.)
If you're used to playing songs on the guitar, it will have to practice the songs on the autoharp (unless, of course, you know the chords. But, if you are like me, the muscle memory in my hands know the guitar chords, which does not transfer easily to the autoharp. Thus, I will be practicing).
You have to learn how to pick on the authoharp. A much easier task on the six-string guitar than on the 30+ string autoharp.
So, for the forseeable future, I will be dusting off my autoharp and re-practicing the songs I know. Who knows…maybe it's time for you to dust off yours, too.