It's not too often that my academic and social media worlds collide. But now they have. I had known that you could cite blog posts and emails in scholarly work, but apparently you can do that same for YouTube videos, tweets, and Facebook posts as well. And thanks to the folks at Teachbytes, there is now this handy guide for appropriately citing social media references in APA or MLA formats.
Check it out . . . and happy writing.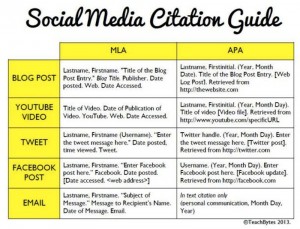 P.S. If this chart is too small for you, check out the original here.