I just started on my journey with blogs and online social media last February. Before that, the only online activity I was involved in was email. Really, that was it.
And as a relative newbie, there's been a lot to learn. What does RSS mean? What's a feed? What does it mean if I subscribe to something?
Well, I figure that I'm not the only one who was confused by these terms. So, for all of you who are also trying to wade through these waters, here is the easiest way I've found to understand these topics. It's important to be familiar with the terminology because it is everywhere now. So let's de-mystify these terms so you can freely jump on board with the rest of us!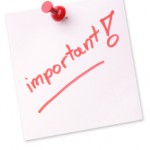 Subscribe via RSS/Subscribe via Email
You will find those two phrases on the top right corner of this blog. It's a pretty simple concept, really – these are two ways you can easily access new blog posts. If you subscribe to this blog (or any blog, for that matter), that means the posts automatically come to you when they are published. So if you subscribe to the Music Therapy Maven, you won't have to type in "www.musictherapymaven.com" every time you want to see the newest article.
There are a couple ways to subscribe:
RSS/Feeds/Readers: These terms all basically do the same things. A reader is a place where you can access all the websites you subscribe to (these are generally sites whose content changes frequently, like news sites and blogs). I like using Google Reader, although there are others out there (e.g. Yahoo, Aol, et al.). The terms "RSS" and "Feed" just refer to different formats of getting the material to a reader. You should also know that readers are generally free. The orange icon (like the one you see below) is the standard reader/rss/feed icon. If you want to subscribe to a site, click that icon. To subscribe to the Music Therapy Maven, click the link below.

Subscribe in a reader

Email: If you subscribe via email, the posts will come directly to the email account you enter. Simple as that. If you want to start receiving the latest Music Therapy Maven posts in your email account, simply follow the instructions below:
Newsletters
There is one other item you can subscribe to – the Music Therapy Maven email newsletter. This is a newsletter that includes information you will not find on this blog. This newsletter is sent directly to your email account.
During your first month as a subscriber, you will receive a series of 4 weekly "getting to know you" newsletters. After that, the Music Therapy Maven email newsletter will come out 1-2 a month.
Like subscribing to the blog, subscribing to the newsletter is free. And you can "un-subscribe" at any time (which means at any point, you can get removed from the email list with the click of a button).
PLUS, sign up for the Music Therapy Maven email newsletter and you will also receive a FREE copy of the "Music Therapy Maven's Productivity Primer," your 7 tip guide that will help you do more in less time.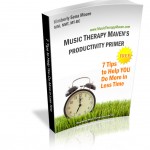 If you like this blog, you will love the email newsletter! Simply follow the instructions below to claim your free ebook and free newsletter subscription today: