I hope you've heard this story. It's pretty cool.
David Carroll, a singer-songwriter, tried to work with United Airlines for over a year because they broke his Taylor guitar and refused to cover the repair costs.
So what does Mr. Carroll do to fight this mistreatment? Sue?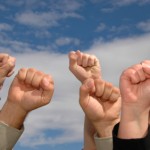 Nope! Mr. Carroll promised United he would write 3 songs about the experience. The second one was posted earlier this month (you can find both of them by scrolling to the end of this post). And these are brilliant songs – singable, humorous, fun, and serious all at once.
But what struck me most was how Mr. Carroll used his talent as a form of protest. His song are like modern-day protest songs.
Music has a long history of being used for protest purposes. And it's a perfect fit – music is a safe way to express divisive opinions and strong emotions. Think of songs like:
"We Shall Overcome"
"Blowin' in the Wind"
"Get Up, Stand Up"
"We're Not Gonna Take It"
"The Times They Are A-Changin'"
Music works because it's a socially-appropriate way to rebel, to share an opinion, and to speak out. Over the years (centuries, really), music has been used to protest (or advocate):
Wars
Civil Rights
Women's Rights
Gay and Lesbian Rights
Political Movements
Slavery
Environmental Issues
And Mr. Carroll is using his musical skills to protest the mistreatment and poor customer service he experienced. He is venting, complaining, poking fun, and expressing his anger all at once. And it's fun.
Enjoy!