This post is a part reflection of the past month and part sharing plans and changes that lie (or is it lay?) ahead. Please read on…
AMTA Conference
Many of you know that I recently returned from our national music therapy conference. This year it was in San Diego–a beautiful place to be in mid-November! (especially when you return to Denver and spend 15 minutes scrapping snow off your car.)
I find conference an amazing experience. It's a commitment in time and money, but always worth it.
Here are the top reasons why I make the conference commitment: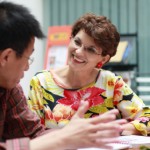 Inspiration. Whether it's talking to people, hearing people share information, or learning what not to do, I always leave conference inspired. This year, hearing Dr. Patel (a music neuroscientist) give his keynote address renewed my passion and commitment to understanding the science behind our clinical work.
Invigoration. Similar to feeling inspired, I leave conference ready to jump into work, make it better, make changes, and implement new ideas.
Reconnection. I've attended every AMTA conference since 2000 (except for 2 when I had week old babies at home). Every year, I meet more people and expand my number of professional relationships. It's fabulous. Plus, having traveled frequently during my clinical training, conference is an opportunity for me to reconnect with college classmates from the University of Iowa, with internship colleagues from Musicworx of California, with grad school buddies from Colorado State University, with friends from my MRAMTAS and AMTAS days (the regional and national music therapy student associations), colleagues from my work on the CBMT Exam Committee, and others I've met over the years. It's wonderful to talk, catch up, and see pictures, even if just for a few minutes.
New Connections. Pretty self-explanatory, but every year, I meet new, interesting people. This first connection is often the start to some interesting and meaningful professional (and personal!) relationships.
Clarification. In the music therapy world, there are different treatment philosophies. We don't all always agree on the best way to treat and work with our clients. But going to conference and hearing other people share their work clarifies my belief in a neuroscience-based approach to clinical work.
Plans and Goals
I feel like I've spent awhile gearing up for our national conference. Now it's time to look and plan ahead for the coming months. Here's some of the changes in store for my company, Neurosong, and for the Music Therapy Maven:
Namaqua Center. Namaqua is my first client. I've been there for 4.5 years. Currently, it's a Therapeutic Residential Child-Care Facility (TRCCF), but it's about to undergo some major changes. I'm going to write more about the Namaqua Center on Thursday's post, but we're about to have several months of transitions. It's new and exciting, but as with any major change will bring about more work and some stress.
Guitar playing educational videos. One of my clinicians, Andrew Neary, is a fabulous guitarist. He and I are working on a series of educational videos and books on intermediate/advanced guitar tips for music therapists. This is a work in progress, so keep reading the blog and sign-up for the newsletter to learn more!
Video and Audio content. Based on your feedback, I am planning to expand the audio and video content available to you. I'm not sure exactly how this will look, yet, but will start by including more songs and video posts on this blog.
So some exciting changes and plans are in store!
P.S. Please remember that, although I strive to make this blog a valuable resource for you, it's made all the more valuable when you interact as well! One of the easiest ways to do that is to leave a comment below. That way, people who read this blog also learn from your tips, insights, and suggestions.
Looking forward to hearing from you soon.