If you are a music therapist, you get asked this question daily. So for my readers interested in learning about music therapy, here is your primer:
Definitions of Music Therapy
Simply put, music therapists use music to help people. We use music and music-based experiences to work on non-musical treatment goals. How we help them depends on who we are working with.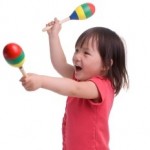 We can use the rhythm in music to help a stroke victim re-learn how to walk. We can use a structured instrument playing experience to help children with autism learn and practice how to appropriately interact with their friends. We can use music listening to help lower the pain level for a hospital patient.
The American Music Therapy Association defines music therapy as "an established healthcare profession that uses music to address physical, emotional, cognitive, and social needs of individuals of all ages. Music therapy improves the quality of life for persons who are well and meets the needs of children and adults with disabilities or illnesses. Music therapy interventions are designed to:
promote wellness
manage stress
alleviate pain
express feelings
enhance memory
improve communication
promote physical rehabilitation"
So there you go.
Where To Find Music Therapy
It is hard to succinctly describe music therapy because there is a lot we do, so many different goals we can work on, and so many different types of clinical populations we can work with. For example:
Music therapists truly work "cradle-to-grave." There are music therapists who work in NICUs (Neonatal Intensive Care Units), those who work in hospices, and everything in between.
Music therapists can work in many different facilities: schools, hospitals, treatment centers, rehabilitation centers, private practices, among others.
Music therapists can work with diverse clinical populations, including, but not limited to: autism, mental retardation, neurologic insults (e.g. strokes, Parkinson's disease), and mental illness.
Music therapists can co-treat with many other professionals, including: physical therapists, occupational therapists, art therapists, speech-language pathologists, special education teachers, and play therapists.
The main point to remember is that music therapists work on non-musical treatment goals. We assess the patient or client, establish the goals we will target, then design the music interventions to best meet those goals.
Where to Find a Music Therapist
If you want to find a music therapist, visit our certification board. You can search for a music therapist in your area through this website. Keep in mind that any music therapist you work with should have the "MT-BC" credential behind their name. This indicates that the professional you are working with has passed all necessary competencies, including a national board certification exam.
Do you have any questions? Feel free to drop a comment! I will answer your questions.
UPDATE: A fellow music therapist, John Lawrence, recently posted his own answer to the "what is music therapy" question. In essence, we say the same thing, but he has a different way of explaining it that is, for me, fresh.