I'm excited to share with you these wonderful Maven sponsors. They're an impressive bunch and I'm honored that they've chosen to sponsor this blog. So please…if you haven't had the chance to check them out, do!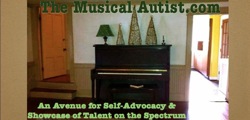 The Musical Autist is the brain-child of music teacher and soon-to-be-music-therapist CJ Diachenko. Ms. CJ started her blog this past spring, which "is dedicated to all people on the autism spectrum, their families, and their allies" as well as for her music students. This Musical Autist blogger has some big news to share. Not only has she successfully completed her pilot Summer Concert Series of Sensory-Friendly Concerts BUT she has also received grant funding from the local non-profit Creating Communities to continue these concerts through the end of the year. Congratulations Musical Autist!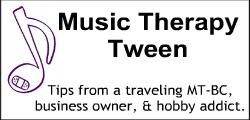 Michelle Erfurt from the Music Therapy Tween continues to share useful information for music therapy students, interns, and professionals alike. She has started selling these beautiful, hand-made boomwhacker totes and recently shared information with her readers about her favorite autism resources, session props, and how to make lyric and chord sheets.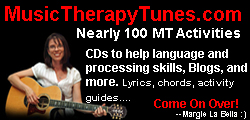 Margie of Music Therapy Tunes continues to upload new music therapy videos on her "megtunes" YouTube channel. These videos share "how and why" information for using certain songs, as well as the lyrics and chords. Additionally, you can now download songs straight from her site! You can pick your choice of 12 songs and have a personalized CD of those songs sent directly to you. As Margie puts it, "(t)his is great for specific populations like early intervention, or physically challenged where you can listen to the music and select a song for your goal areas."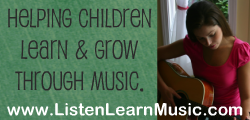 Rachel Rambach runs the popular Listen and Learn blog. Rachel is a board-certified music therapist, a singer/songwriter, a blogger, a social media and technology enthusiast, and an educator–and you can find a little of all of that on her blog. In addition, check out Rachel's spinoff project, Listen and Learn Plus! It's a premium membership site for people who want instant download access to Listen & Learn's vast collection of over 200 songs, resources, and materials. Rachel recently celebrated the one-year anniversary of her debut studio CD Time to Sing Hello (Congratulations, Rachel!) and continues on her quest to post 365 blog articles in 2011.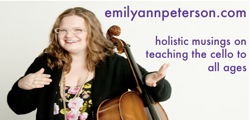 Cellist Emily Ann Peterson's blog provides a place where she is "Putting the 'Oh!' in 'Cello'." On the Emily Ann Peterson blog, you'll find tips for teaching and playing the cello, as well as information about the Suzuki method, music and the brain, and where to purchase string equipment and supplies. If for nothing else, head on over the Emily's blog to check out all her cool pictures!
Rhythm Ring is a nifty little instrument that lets you literally have "percussion at your fingertips." This finger shaker can easily be used with string and percussion instruments and–let's face it–that what we music therapists use most of the time, isn't it? Congratulations are in order because Rhythm Ring is now a proud sponsor of Buddy Cruise this year…and have already donated 150 Rhythm Rings for an event next month!
Would YOU like to become a Maven sponsor and be seen by thousands of readers every month? Learn how here!