This weekend we "put up Christmas" in the house. I love this time of year, with all the green, red, and gold, the lights, and the memories that come pouring back as I hang each little ornament. I felt happy, relaxed, and excited for the holidays!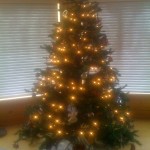 Then yesterday, the first Monday after a wonderful Thanksgiving break, I sat and looked at my schedule this month.
So much for feeling relaxed.
The holidays are inevitably a time for stress. On top of maintaining our typical workload, we now have to plan vacation time, make-up work, buy presents, put up decorations, send cards, take finals, deal with busy malls, attend parties, and so on.
But this post isn't about de-stressing during the holiday season. That topic will be covered ad nauseum in the magazines located in your nearest grocery store checkout line.
This article is to remind you that holidays can be difficult for your clients, too.
How the Holidays Can Affect Your Clients
This can take many forms. For some, holidays may remind them of loved ones they're not with anymore. Maybe a parent passed away years ago during the holiday season and the "joyful holiday spirit" is just a painful reminder. Maybe they recently lost a spouse to cancer. Maybe it's the first holiday a child won't be with his parents because their rights were terminated.
For others, the holiday season isn't filled with fond memories of Christmases past. Some clients are reminded of horrific family fights, which make it hard for them to enjoy the season.
It could also be that our client's are stressed because WE are stressed. You know what that's like–if you are around someone who is feeling stressed, you feel it, too. And it doesn't necessarily mean that you, the therapist, is stressed. Our clients could be affected by the stress of those around them.
As a therapist, it's important to be aware of this issue and to adapt accordingly.
For example, with my trauma-influenced children, I make sure to only use familiar, safe songs and interventions during this season. I don't try and introduce them to a bunch of new tasks and new ideas. Using familiar and predictable experiences helps lower their stress level.
I'm also more sensitive to their excitability and hyper-ness. I think this is true for any child (just ask teachers). The holidays bring a level of hyper-ness that makes it hard for children to concentrate and learn new things.
Finally, this time of year may bring back painful memories our clients need to process. It's an emotionally-charged season that brings up emotionally-charged memories. Be ready to talk those through, if appropriate.
I imagine that you have other ideas and strategies that you implement with your clients this time of year. Please share them with us! Simply type in your comment in the field below and hit the "Submit" button.
P.S. If you like this blog, please sign up for my newsletter! It's free and super-easy. Just type in your name and email below, then click "Subscribe Now."