At the time of writing this post, I am (mostly) recovered from last week's AMTA conference. Normally, I would list my personal conference highlights, but this year? Time to shake things up and show you through pictures…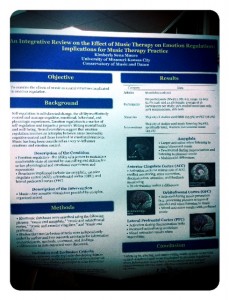 Conference really revolves around the workshops, trainings, and sessions. It's a time to share, to learn, and to get inspired. I was very fortunate this year to debut, in a way, some of the research and ideas I am developing as a doctoral student. Part of this debut was participating in my first-ever research poster session! It was way more fun than I thought it would be, chatting and talking with people who actually seem interested in what I'm doing. Pretty cool.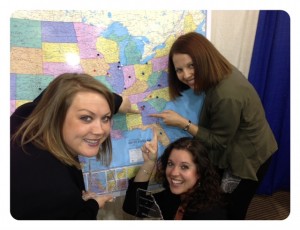 The music therapy state recognition plan continues to grow and progress. This year, we debuted an advocacy booth in the Exhibit Hall. State task force members staffed the booth and collected over 100 advocacy stories from the music therapists and music therapy students who dropped by. Here are 3 music therapists from Georgia celebrating their work in getting music therapy licensure legislation passed this year.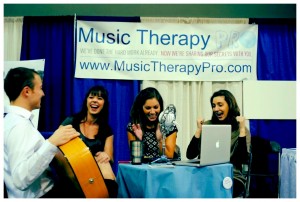 For the second year in a row, Rachel Rambach, Michelle Erfurt and I had our own Music Therapy Pro booth in the Exhibit Hall. When I wasn't busy presenting or attending sessions, I was hanging out at our booth. My favorite time was recording our conference edition of the Music Therapy Round Table podcast—we interviewed and talked with some AMAZING music therapists. We also had our first-ever MTRT singalong with Matt Logan of A Perfect Lullaby (pictured above). You'll be able to catch all the goodness yourself when the episode goes live next week.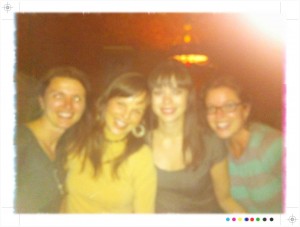 Not only is conference about sharing, learning, and getting inspired, but it's also about networking and connecting. About getting caught up with friends and meeting new friends. To me, this type of networking may be the single most important reason to keep attending conference. Above, I'm pictured with a three amazing ladies, Michelle Murphy Akaras from Terra Rising (they're in the middle of filming a documentary about music therapy), CJ Shiloh (the dynamo behind The Musical Autist), and Jamie George (the amazing music therapist behind the highly successful company The George Center).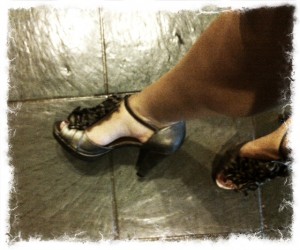 Finally, conference doesn't have to be all business and hard work. Last year, in noticing some of the AMAZING shoes music therapists wear, we started conference #shoewars on Twitter. It continued this year and—if I do say so myself—music therapists have great taste in shoes…
Congratulations to the American Music Therapy Association and the local committee for hosting a wonderful, successful event! Next year, the annual AMTA conference will be held in Jacksonville FL from November 20-24, 2013. I'm looking forward to it already and hope to see you there 🙂