I was in Detroit this past weekend attending a cousin's wedding. I met a woman and we soon began talking about children and about our work. When the conversation turns to work, I frequently get asked  "What is music therapy?" and this conversation was no exception. My new friend said her high school daughter is thinking about majoring in music education and becoming a music teacher. She then said "And I told her – why not get a primary degree in English education and a secondary one in music education. If budgets get cut, they won't cut English."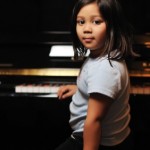 I was speechless. I was sad.
This is a much bigger topic than I can write about in one post. However, here are three good reasons why music education is not going anywhere anytime soon:
Parents would Protest. First of all, I think (and pray) that parents would raise hell if schools decided to cut music programs. This scenario has already been depicted in several movies (e.g. Music of the Heart, Mr. Holland's Opus, etc.). But this speaks to a deeper issue. Music education used to be considered a foundation topic, essential for the well-educated person. We lost that somewhere in the last century. For some reason many people view music education as an elective that is too easily delegated as a subject that can be easily cut.
It's Good for the Child. Learning music is essential for the education of our children. Our children need these programs. Study after study have shown how music (and, although I am not as knowledgeable on the topic, art) training has a positive impact on language and math skills.
And Good for Budgets. Additionally, my husband (a high school and college band director) makes a good point: music teachers, and especially ensemble conductors – band, orchestra, and choir directors – actually help the budget. What other teacher can easily handle 30, 60, 120, or 200 students at one time? How many other teachers would need to be paid during that class period to teach those students?
I am not a full-time music educator and am only sharing my thoughts based on the little experience I have. However, I come across this issue as a music therapist. It's hard for people to imagine that music can be a serious, effective, viable treatment option. They too easily envision singing "Kum-Ba-Ya" by a beach campfire. It's hard for people to understand that music, which they consider for pure entertainment, actually has an important role in our life.
I follow the subject "music therapy" in Twitter. Two-thirds of the time, people tweet about listening to music and how that's their therapy, but yet it's somehow hard for them to understand that it can a professional therapy. It is hard for many to distinguish between what they consider to be "entertainment" and what they consider to be "medical" or "educational."
Even the NPR On Science guy initially joked about whether a dancing bird can be considered hard science (answer: yes, it is).
Unfortunately, even though this topic has been on my mind on and off over the years, I still don't have a ready answer for people like the mother I met this weekend. How do you talk to someone about the importance of your chosen profession when they have already made their minds up that it's not "serious" work? If you have any ideas, I would love to hear them. I can only think that we need to continue to educate, educate, educate one person at a time.
Perhaps starting with the moms.