This morning, my husband—an avid reader of the New York Times—shared with me a tool on the NYT site that got the nerd in me really excited. This tool, called Chronicle, allows you to visually track language usage in the NYT since its launch in 1860. You insert keywords and/or phrases and the program graphs how many times those words and phrases appeared in the newspaper each year. This simple tool gives you a snapshot visual picture of historical and cultural trends as measured by language usage in what is arguably one of the better known and respected newspapers in the United States.
For someone like me who loves history and writing? It's pretty cool.
Just for fun, here's what I got when I inputted "music therapy" (blue) and "musical therapy" (black):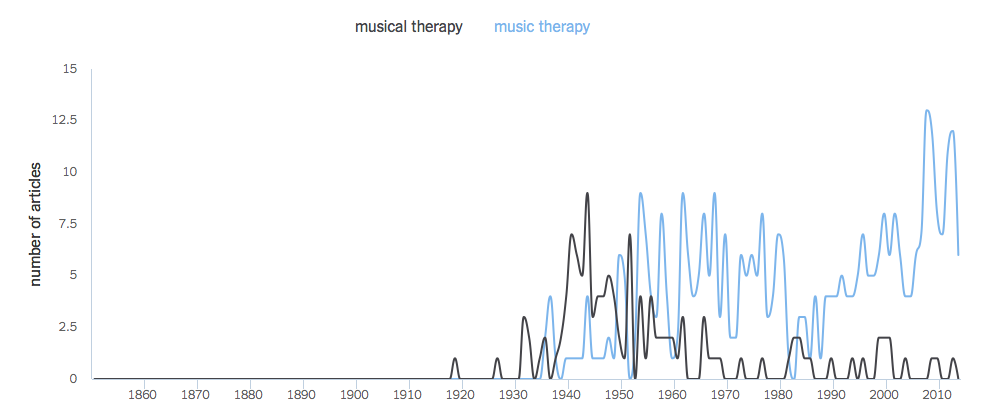 At first glance, here's what stood out to me:
The first reference to "musical therapy" occurred in an article published in 1919.
"Music therapy" first appeared in 1937; 4 articles included the phrase that year.
"Musical therapy" was initially the most commonly used phrase in the paper. "Music therapy" first surpassed it in 1937.
Although "music therapy" began to be used more consistently than "musical therapy" beginning in 1954, but it wasn't until 1984 that this occurred every year.
The most articles that referenced "music therapy" were published in 2008. There were 13 that year.
But the best part? If you go to the actual site, you can scroll over the phrase and year, click, and be taken to a page that links to all the articles from that year to include that phrase.
Why am I so excited about this tool? Beyond my own personal and professional interest in language and history, I can envision some research possibilities. Using this information to help us understand where we have come from as a profession and perhaps predict future trends. This tool could help frame a line of inquiry or perhaps be used to generate data for a content analysis. I can also envision advocacy-related possibilities. For example, maybe this data could be used to help educate others on the importance of using respectful language as those do who are involved in the neurodiversity movement.
All that said, I also recognize that there are limitations to this tool. First, it only provides a small index of language usage from one source, the New York Times. Second, it would be more valuable to conduct a more systematic analysis and interpret this information in the context of historical, cultural, or professional events, as appropriate. The numbers themselves, although interesting (at least to me) only provide a superficial analysis.
But still, for you researchers, advocates, and history buffs out there, keep the NYT Chronicle in mind. Who knows what possibilities there might be for using this type of information to further our understanding and our cause.