I'm excited to share with you these wonderful Maven sponsors. They're an impressive bunch and I'm honored that they've chosen to sponsor this blog. So please…if you haven't had the chance to check them out, do!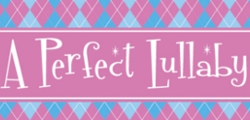 Please join me in saying "hi!" to the latest Maven sponsor, A Perfect Lullaby. Developed by music therapist–and fellow Iowa alum–Matt Logan, the A Perfect Lullaby CD takes all the work from you and gives you the "best of the best" lullabies for you and your baby. As an added bonus, subscribe to their podcast for tips on when to use lullabies, strategies for building a better bond with your baby, and other CD recommendations.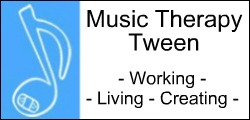 Michelle Erfurt from the Music Therapy Tween continues to share useful information for music therapy students, interns, and professionals alike. Her beautiful, hand-made boomwhacker ® totes were selling like hotcakes at the recent AMTA conference and there's time, yet, to purchase one as a holiday present for your music therapy friend. Additionally, Michelle has just published a great, must-read series on finding music therapy work.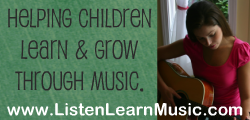 Rachel Rambach runs the popular Listen and Learn blog. Rachel is a board-certified music therapist, a singer/songwriter, a blogger, a social media and technology enthusiast, and an educator–and you can find a little of all of that on her blog. Rachel is less than one-month away from her goal of posting 365 blog articles in 2011 and she continues to share valuable songs, ideas, and tips in her Sunday Singalong and Friday Fave series.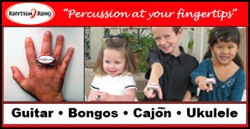 Rhythm Ring is a nifty little instrument that lets you literally have "percussion at your fingertips." This finger shaker can easily be used with string and percussion instruments and–let's face it–that what we music therapists use most of the time, isn't it? Congratulations are in order because Rhythm Ring is now a proud sponsor of Buddy Cruise this year…and have already donated 150 Rhythm Rings for an event next month! (P.S. This little guy would make a GREAT stocking stuffer! =D)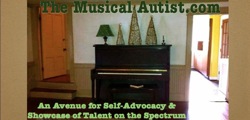 The Musical Autist is the brain-child of music teacher and soon-to-be-music-therapist CJ Diachenko. It just celebrated it's one-year anniversary (congratulations Ms. CJ!) and has many accomplishments to show for it (including a highly successful Sensory-Friendly Concert series). CJ celebrated her blogging anniversary by re-launching a brand-new site, which you can find at www.themusicaautist.org.
Would YOU like to become a Maven sponsor and be seen by thousands of readers every month? Learn how here!