I'm excited to share with you these wonderful Maven sponsors. They're an impressive bunch and I'm honored that they've chosen to sponsor this blog. So please…if you haven't had the chance to check them out, do!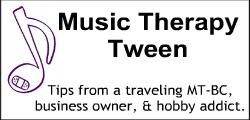 Michelle Erfurt from the Music Therapy Tween continues to share useful information for music therapy students, interns, and professionals alike. She has started selling these beautiful, hand-made boomwhacker ® totes and recently shared two videos to help organize blogs that you follow and blog posts so that you can read them later.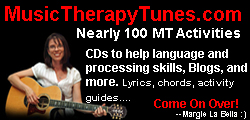 Margie of Music Therapy Tunes is excited to announce that you can now download songs straight from her site! You have your choice of purchasing individual songs or download an entire CD. Additionally, Margie just posted 2 new videos to her megtunes YouTube channel–check out the bottom bar on her website. Want to submit your intervention ideas to share with other music therapists? Simply email Margie at margie@musictherapytunes.com and she'll help you out!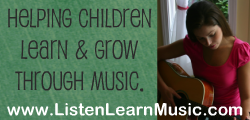 Rachel Rambach runs the popular Listen and Learn blog. Rachel is a board-certified music therapist, a singer/songwriter, a blogger, a social media and technology enthusiast, and an educator–and you can find a little of all of that on her blog. Rachel just launched a new feature called My Musical Space, which highlights the studios and offices of readers, the places where they create, teach, and facilitate music and/or music therapy (you can see the first one here). You are invited to submit your own photos and captions by emailing Rachel at rachel@listenlearnmusic.com.
Rhythm Ring is a nifty little instrument that lets you literally have "percussion at your fingertips." This finger shaker can easily be used with string and percussion instruments and–let's face it–that what we music therapists use most of the time, isn't it? Congratulations are in order because Rhythm Ring is now a proud sponsor of Buddy Cruise this year…and have already donated 150 Rhythm Rings for an event next month!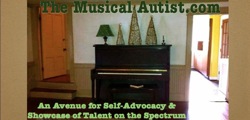 The Musical Autist is the brain-child of music teacher and soon-to-be-music-therapist CJ Diachenko. Ms. CJ started her blog this past spring, which "is dedicated to all people on the autism spectrum, their families, and their allies" as well as for her music students. This Musical Autist blogger has some big news to share. Not only has she successfully completed her pilot Summer Concert Series of Sensory-Friendly Concerts BUT she has also received grant funding from the local non-profit Creating Communities to continue these concerts through the end of the year. Congratulations Musical Autist!
Would YOU like to become a Maven sponsor and be seen by thousands of readers every month? Learn how here!