I'm excited to share with you the wonderful Maven sponsors. They're an impressive bunch and I'm honored that they've chosen to sponsor this blog. So please…if you haven't had the chance to check them out, please do!
The newest Maven sponsor is Rhythm Ring, a nifty little instruments that lets you literally have "percussion at your fingertips." This finger shaker can easily be used with string and percussion instruments and–let's face it–that what we use most of the time, isn't it? Order you Rhythm Ring online and have it by the end of the week. Welcome Rhythm Ring!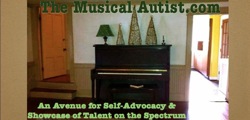 The Musical Autist is the brain-child of music teacher and soon-to-be-music-therapist CJ Diachenko. Ms. CJ started her blog just this past spring, which "is dedicated to all people on the autism spectrum, their families, and their allies" as well as for her music students. CJ will be a guest on Janice Harris's Music Therapy Show podcast, which airs live on July 22nd, 12 noon ET. If you get a chance, tune in! CJ will be talking about her blog, as well as her recently-launched Sensory-Friendly Concerts, the Musical Autist Academy, and her advocacy work in the Neurodiversity Movement.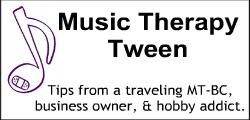 Michelle Erfurt from the Music Therapy Tween recently wrote her 200th post, a great milestone. Congratulations, Michelle! Other popular posts of late include: Are You A Distracted Driver?, Tips For Working With Those Who Are HOH, and Clients With Awesome Musical Skills. Michelle is chock-full of good and useful information, so head on over to her blog and see what she can help you learn today!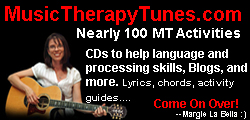 Margie of Music Therapy Tunes continues to share new music therapy videos on her "megtunes" YouTube channel. Her videos share "how and why" information for using certain songs, as well as the lyrics and chords. If you have any thoughts or questions, you can even leave a comment for her right on her channel! Margie is in the process of revamping her website and you should be able to see some of those changes by the end of July. Finally, Music Therapy Tunes was recently found to be a top 10 music therapy blog, according to it's Google ranking. Congratulations, Margie!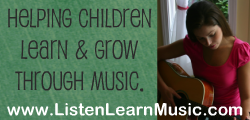 Rachel Rambach runs the popular Listen and Learn blog. Rachel is a board-certified music therapist, a singer/songwriter, a blogger, a social media and technology enthusiast, and an educator–and you can find a little of all of that on her blog. In additional, check out Rachel's spinoff project, Listen and Learn Plus! It's a premium membership site for people who want instant download access to Listen & Learn's vast collection of over 200 songs, resources, and materials.  Each week, members receive lead sheets, sheet music, videos, special posts on a number of topics, and mp3 downloads, not to mention complete 24/7 access to the L&L Plus! archives.  Later this summer, the price of membership will be increasing. If you haven't already joined, this is your chance to lock in the bargain price of $7/month.  Once you lock in your membership rate, it will never go up.  You can learn more here.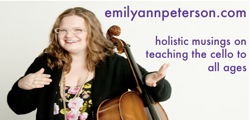 Cellist Emily Ann Peterson's blog provides a place where she is "Putting the 'Oh!' in 'Cello'." On the Emily Ann Peterson blog, you'll find tips for teaching and playing the cello, as well as information about the Suzuki method, music and the brain, and where to purchase string equipment and supplies. If for nothing else, head on over the Emily's blog to check out all her cool pictures!
Would YOU like to become a Maven sponsor and be seen by thousands of readers every month? Learn how here!