I'm excited to share with you the wonderful Maven sponsors. They're an impressive bunch and I'm honored that they've chosen to sponsor this blog. So please…if you haven't had the chance to check them out, please do!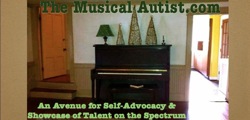 The newest Maven sponsor is The Musical Autist, the brain-child of music teacher and soon-to-be-music-therapist CJ Diachenko. Ms. CJ started her blog just this past spring, which "is dedicated to all people on the autism spectrum, their families, and their allies" as well as for her music students. She's a tireless advocate for those on the spectrum and I'm excited to see where her career takes her!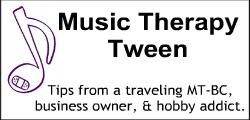 Music therapist Michelle Erfurt manages the Music Therapy Tween blog, where she shares "tips and thoughts from a traveling music therapist, business owner, and hobby addict." She shares videos, information, pictures, and has an endless source of energy and ideas. Recent blog posts highlighted an online song resource, tips for saving money at the pump, and a shortcut when using white boards and markers.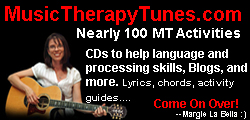 Music Therapy Tunes is managed by the award-winning singer/songwriter and music therapist Margie La Bella. Her website is a fabulous resource for any music therapist, music teacher, and music student. Check it and access Margie's original songs, as well as lesson plans and songwriting tips.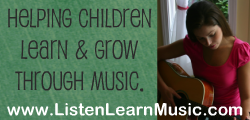 Rachel Rambach runs the popular Listen and Learn blog. Rachel is a board-certified music therapist, a singer/songwriter, a blogger, a social media and technology enthusiast, and an educator–and you can find a little of all of that on her blog. Rachel recently announced that she is resigning from her music therapy position at the Hope Institute for Children and Families so that she can focus on her private practice and online services. Best of luck, Rachel!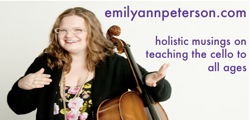 About 3 years ago, cellist Emily Ann Peterson had a severe battle with tendonitis and Repetitive Stress Injury, which affected all aspects of her life (even turning a door knob!). She's now working to turn to proverbial lemons into lemonade by saving her blog readers form the same fate–Emily is giving away 3 copies of the Playing (Less) Hurt book! Click here for more details.
Would YOU like to become a Maven sponsor? Learn how to now!