I am very excited to introduce you to today's guest blogger. Rachel Rambach is a music therapist I met online, both through her wonderful blog, Listen and Learn Music, and on Twitter. I have yet to meet Rachel in person (I hope to soon!), but can tell from her writings and our online interactions that she is a warm, giving, and musically-gifted therapist (check out some of the songs on her blog!).
Rachel recently wrote this very informative post. In it she shares advertising ideas and suggestions for the private practice music therapist. (A while back I wrote a marketing post – related, but different. You can read it here.) She has graciously offered to share her post here on the Music Therapy Maven. So, without further ado, here in Rachel's words are "How Do You Advertise Your Music Therapy Services?":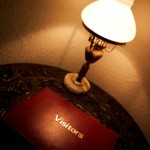 This is a question that I get asked almost as often as "what is music therapy?", only from a different crowd. Fellow music therapists are constantly seeking my advice on this subject, and I always feel that I let them down with my answer. The truth is, I don't do much advertising. That is, I don't mail fliers, take out ads in the newspaper, or ask local businesses for referrals.  There are other ways of making your services known in the community, and these are just a few that have worked for me:
1. Create a Website
In the year 2009, this is sort of a given for business owners, no matter what your field. I use the free program Google Blogger, which means the total cost of my site is $10 for my domain name (www.musictherapyconnections.org). Not a bad deal. Include your background, an overview of music therapy and the services you provide, and contact information, and anything beyond that is up to you. I keep mine simple, but there are amazing music therapy sites out there that I definitely admire.
2. Print Business Cards and Brochures
This is another "duh" item on the list, but these materials have generated a good percentage of my business. I carry my cards with me at all times, and give them out frequently to people even if they themselves can't use my services. You never know who they might pass your card along to. I constantly hear from people who say "Oh, I got your name and number from So-and-So" and half the time, I've never even heard of So-and-So. Word of mouth is an amazing thing, and print materials help it along.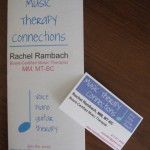 Here is my brochure and business card, both of which I created myself using the magic of Microsoft and Avery templates. All it cost was the price of the paper on which they are printed. I recommend using a heavy cardstock for both. Be sure to include your website and the basic info you include on your website in your brochure.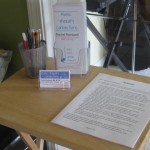 I keep a stack of business cards and brochures on a little table right outside of my studio. I always encourage parents to take as many as they want so that they have them on hand to give to other parents.
3. Participate in Relevant Conferences and Workshops
School districts and human service organizations are always hosting conferences and workshops here in Springfield, and many of these events invite service providers to set up booths and tables. I always jump at the chance to participate, because not only is it a good way to meet potential clients, it's also an opportunity to network with other service providers. Even if they are in different fields, they can still help spread the word about you since you most likely work with the same types of populations.
4. Join Social Networks
There is nothing as hot right now as social networking sites. Twitter and Facebook seem to have taken over the world, which can only work to your advantage if you use them correctly. Use such outlets as your opportunity to connect with potential clients and colleagues on a more personal level. Tweets and status updates can include interesting factoids about your work or your business, and they can spark conversation among "followers". After writing a new blog post, I always post a link on both my Twitter and Facebook pages.
5. Offer Free Workshops and Presentations
This has been one of my greatest sources of new clients, hands down. I attended several meetings of our local Down Syndrome Society a couple years ago, and I brought with me some of the materials I use in my music therapy sessions. I presented a sample group session in which the children participated, using some of my favorite activities and songs. A week later I had 10 new clients, most of which I still see today. It is so simple to put together a presentation about your work, and if I – someone who is deathly afraid of speaking in front of crowds – can do it, then so can anyone else.
Most of these tips are completely obvious ones, but sometimes we overlook the obvious answers and take more difficult, unnecessary routes to get where we want to go. I have only been practicing music therapy for a little over two years, but in that time I have created a part-time business that allows me to do what I love in addition to my full-time music therapy position. There's no secret to the strategies I've used, and I hope you can use them, as well.